Introduction
Modern laptops all seem to want to claim the title of smallest, thinnest, lightest and most compact on the market. This is great for travel because your laptop essentially weighs less than the lunch you brought with you. However, it's a nightmare when it comes to installing applications, upgrading the OS, storing photos and documents, or even recovering from a hardware failure. In this blog, we will be discussing ways to use an SD Card as a Hard Disk on your ultra portable laptop.
When shopping for laptops, look out for the dreaded "32GB eMMC" as it describes a permanently soldered on memory chip similar to those used in SSD hard drives. These memory chips are not upgradeable and the laptops they're in don't even have a way to add a hard drive when you run out of space. Most of them do have a Micro SD card slot though.
Requirements
Non-upgradeable laptop
Notable examples: HP Stream, HP Stream x360, HP Pavilion X2, ASUS EeeBook X205TA, ASUS TP200SA
Compact Flash Card Slot
Check whether your laptop has a full size SD, Micro SD, M2 card or anything else
Compact Flash Card
Recommended cards: SanDisk Ultra SD, Ultra MicroSD, and Extreme PRO SD; Samsung Evo MicroSD
If your laptop doesn't have a Compact Flash Card Reader, use a compact USB Flash Disk
Recommended flash drives: SanDisk Ultra Fit, Lexar JumpDrive, SanDisk Cruzer Fit
Disclaimer
Please be aware that while these steps worked for me, your results may vary.
When using an SD card as a Hard Disk or permanent storage, never remove the SD card unless the computer is fully powered off.
Considerations
If you decide to deviate from the list of Compact Flash Cards above or want to use one you already have, please note that not all were created equal. The SD card medium comes in Classes ranging from 1 to 10, with Class 10 being further segregated into UHS classes U1 through U3.
The non-UHS SD card classes are directly translatable to Megabytes per second. This means that a Class 2 SD card's maximum throughput is 2 MB/s… considering a magnetic hard disk can write between 60 and 80 MB/s and an SSD can easily top 250 MB/s, using such an SD card would be like plunging head first into the 1990's.
UHS SD card classes, by contrast, are translatable to 10 Megabytes per second. A Class 10 U3 SD Card should be capable of at least 30 MB/s. Newer cards are even faster due to some clever engineering. For instance, SanDisk Extreme PRO Class 10 U3 cards are capable of 95 MB/s, meaning you probably wouldn't be able to tell the difference between that and your 32GB eMMC internal storage.
USB 3.0 drives can do up to 150MB/s so they're currently superior in that respect, but despite how small they are, they stick out of the port. The last thing you want is to accidentally corrupt your data by yanking out the USB drive while it's being written to. In that respect, using an SD Card as a Hard Disk is preferable because it's harder to accidentally remove.
Why Follow this Guide?
OK, so if you have one of these laptops you're probably already aware of being able to use an SD card to store your files. However, because your computer sees the SD card as removable storage, it won't allow you to install software to it. You can never install large software packages like Photoshop on your 32GB eMMC drive and you've probably made peace with that.
Well, allow me to show you how to set up your SD Card as a Hard Disk or permanent fixture to allow you to install software and generally use it as if you had much more internal storage than you actually do. I'll even cover automatically saving videos and pictures to the device automatically.
Most importantly, if your device ever has a non-recoverable issue, this method will allow you to extract your data by simply pulling out the card. No expensive Data Recovery services or soldering  eMMC chips required.
Procedure
Now that you know the "why" and "how", let's start.
Insert and set up your flash card or USB stick
I'm going to assume you're using a blank SD card – if you're not, DO NOT FORMAT IT. Skip the steps relating to changing the File System to NTFS or backup your card temporarily to disk until it's been converted.
The SD Card will be assigned a Drive Letter and will appear in the 'Computer' or 'This PC' area of Windows Explorer.
The next order of business is to format the SD Card to NTFS so we can use Windows Permissions and other advanced features if required.
You can do this in one of several ways. On Windows 10, right click on your Start Menu button and select "Computer Management" as seen in the image below:
On other versions of Windows, open the 'Run' menu by pressing the WinKey + R and type in the following:
%windir%\system32\compmgmt.msc /s
Once 'Computer Management' opens, proceed to 'Storage' > 'Disk Management'.
Next, right-click the existing partition on your SD Card – it should be pretty obvious which one it is as it will say 'Removable Device' and the same amount of space as is written on the device or packaging. From the context menu, select 'Format…'
In the Format window, select NTFS as your File System and leave all other options as default and click 'OK'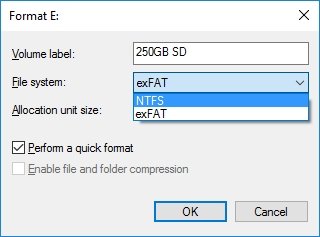 Wait for the process to finish, then open the new partition.
Create a directory structure which will fit your needs. Have a think about what you'd like to store on your new storage device and create directories accordingly.
I'm creating the following:
Program Files
Users

Adrian

Videos
Pictures
Music
Downloads
Set Up Directory Mount Point
Next, create an empty directory on your internal storage drive. I just called mine "SD".
Now, go back to 'Computer Management' and right-click on the SD Card partition. Click on 'Change Drive Letter and Paths…'

Ensure 'Mount in the following empty NTFS folder' is selected and click 'Browse…'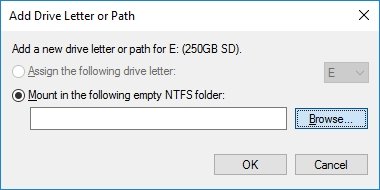 Select the directory you created earlier. In my case, the "SD" folder on the "D:" drive. Click 'OK'.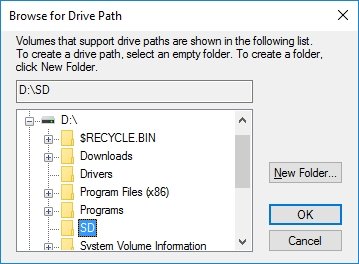 You've just attached your removable storage on to a virtual mount point on your internal storage. It's like your hard drive has a massive backpack.
Now think about whether you intend to use the SD card as storage for other things or if this is it. If you intend to use it to store files directly to it, you might find it easier to also have it mounted to a drive letter. However, if you don't intend to do that, consider removing the drive letter.
To remove the drive letter, get back into the 'Change Drive Letter and Paths…' menu, select the drive letter and click 'Remove'.
Install Software to SD Card
When installing software, go through the setup as normal until you get to the 'Destination Folder' bit. I'll demonstrate with Unlocker 1.9.2 as it's lightweight, useful and doesn't take up much space.
Firstly, always watch out for bloatware or unwanted extra programs. To keep small programs free, developers often charge other companies money to bundle their software with the program you want. Unfortunately, the bundled software is often not something you want and at worst, it can be a trojan horse which downloads a bunch of malware to your machine. Always uncheck the boxes which install extras.
When you reach the 'Destination Folder' portion of the installation wizard, click 'Browse…'
Then select the folder you created earlier and notice how its contents are the folders you previously made on your SD card. Select an appropriate destination (in my case, the Program Files folder) and click 'OK'.
The installation should proceed as if it was installing to your hard drive without ever suspecting the files are being stored on removable media.
Complete the wizard and you've done it! The software is successfully installed to your SD card.
Tweaking Windows to store User Files to SD automatically
As promised, here's the nifty bonus to allow you to seamlessly store files on your SD card as if it was your user directory. I'm going to demonstrate with only one folder, but you can do this for as many as you need.
A word of advice if you're using an old SD card or one bought from China – ALWAY BACKUP YOUR DATA. If at all possible, use Cloud Storage services such as One Drive, Google Drive, iCloud or anything and keep copies of your data there. SD cards, especially cheap ones, sometimes go bad and your data may become corrupted or unreadable. Fraudulent manufacturers sometimes make SD cards which claim to be a certain size but in fact are a lot smaller – if that happens to you, once the card is full, the Operating System will unwittingly start overwriting your data and you'll lose anything which was first on the card. Always take precautions and don't keep family photos or important documents in only one place.
With that said, open Windows Explorer and navigate to %userprofile%
Find all the directories responsible for storing your Downloads, Music, Photos, Videos, etc.
If you remember back to when I created my folders on the SD Card, I put them in 'Users' > 'Adrian'. I did this so those directories could be swapped in for the ones in my 'User Profile' folder.
Using older versions of Windows (including windows 10 without latest updates)
If you're using a fully updated PC, skip to "Using Fully Updated PC".
To make this work, rename each of the directories to something other than what they're called – I'm adding the number 1 after each name. To do this, open the Command Prompt.
You can do this in Windows 10 by right-clicking the Start Menu and selecting 'Command Prompt (admin)'
In other versions of Windows, press WinKey + R and type 'CMD' and click 'OK'.
Once in Command Prompt, type the following: cd %userprofile%
You can list directory contents by typing: dir
Rename each folder you want to do this for by typing: ren Folder Folder1
In my case, I'm starting with music, so I've typed: ren Music Music1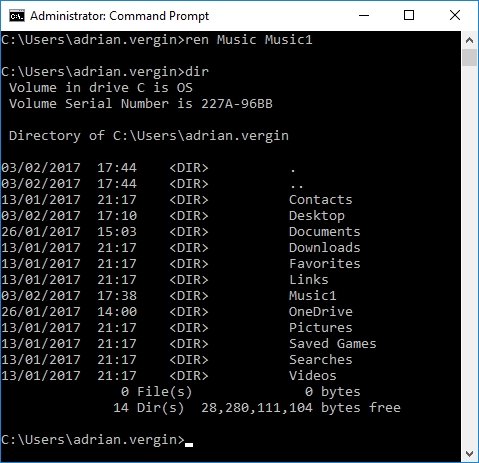 Next, you need to create a directory junction between your SD card directory and your User Profile directory. To do this, note down the path of the SD card directory – in my case it's "D:\SD\Users\Adrian\Music"
The syntax for the directory junction command is as follows: MKLINK /J Link Target
In my case, this translates to: mklink /j "%userprofile%\Music" "D:\SD\Users\Adrian\Music"
If you now go back to Windows Explorer and look in %userprofile% you'll find that you have two folders called 'Music'
Open the folder with the note on it – your old Music folder – and select all the files. Either right-click and 'Cut' or press CTRL + X.
Now, go up a directory back to %userprofile% and open the new Music folder (the one which shows up as a shortcut). Once there, right-click and 'Paste' or CTRL + V to move all your files to their new location.
Next, go back to %userprofile% and delete the old, empty folder. DOUBLE CHECK THAT IT'S EMPTY FIRST.
To seal the deal, go into 'Libraries' by typing it into the address bar in Windows Explorer.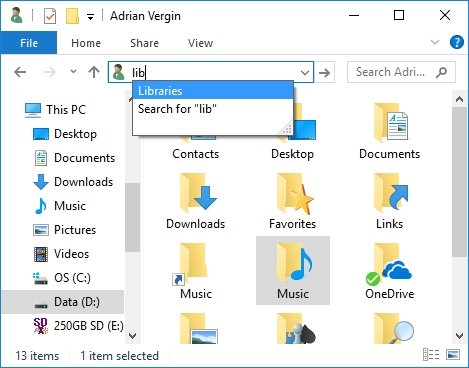 Right-click the corresponding library (in my case, Music) and select 'Properties'.
You'll see that your old Music folder still exists in the list. Remove it, then click the 'Add…' button.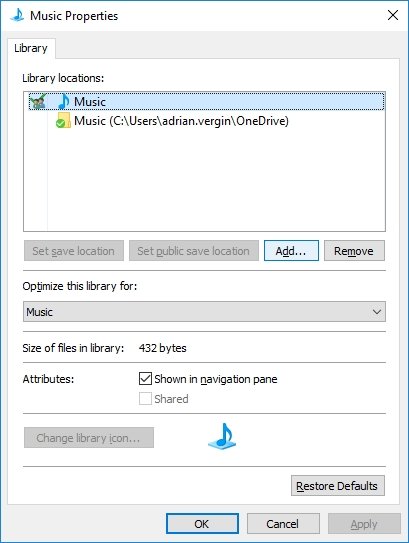 Select your new Music folder and click 'Include Folder'.
Click your new Music folder in the list and select 'Select Save Location' and 'Select Public Save Location'
Windows will now understand that when you click on your directory anywhere in Windows Explorer, it's supposed to take you to the new folder. Here's what happens if I click 'Music' in mine.
That's it! Repeat this process for any additional folders you want to create and you'll be saving all your files to the SD card instead of clogging up your disk.
Using fully updated PC
If you haven't installed all the latest Windows updates, go back to "Using Older Versions of Windows".
In an updated Windows it's much easer to move your directory locations and contents. Simply right-click on each of the folders in your user profile directory and go to Properties.
In Properties, go to the Location tab and click Move.
Then, when asked, select the corresponding directory you created earlier:
Clicking 'Select Folder takes you back to the 'Location tab' where you click 'OK' to confirm:
Finally, you will be asked if you want to move all your existing files to the new location. Click 'Yes' and wait for the move operation to complete:
That's it. Repeat this for all the folders you wish to move and enjoy the extra space. I would recommend moving all of the folders you can, but at the very minimum you should move 'Desktop', 'Downloads', 'Documents', 'Pictures', 'Music' and 'Videos'.
Browser Tweak to allow Downloading Large Files in Internet Explorer
One final thing. If for any reason you use Internet Explorer to download files and the size of your hard drive is preventing you from downloading anything big, you may need to change the location of your Temporary Internet Files folder after completing the tutorial above.
This isn't as much of an issue on other browsers as they download directly to the location you specify, but Internet Explorer downloads to the temporary directory before transferring your file to where it's supposed to go. Please note that there's no way to do this in Edge, so you may need to switch to another browser if you experience this issue.
To get around this, open your Control Panel and find 'Internet Options'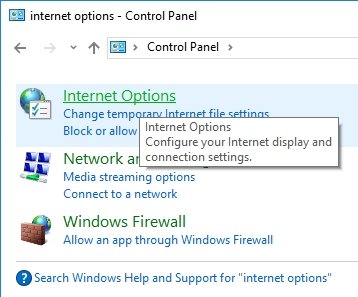 Once there, on the 'General' tab, under 'Browsing History', click 'Settings…'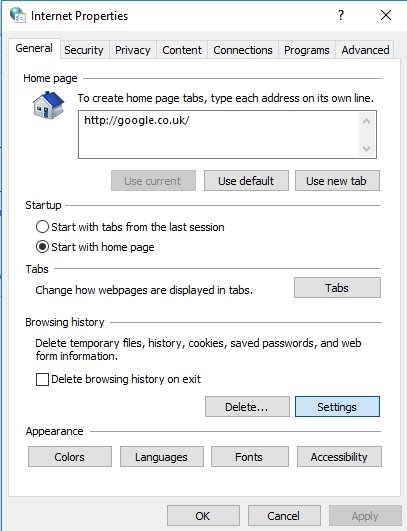 You'll see the current location of your Temporary Internet Files folder. Go to your SD Card folder and create a new folder – I recommend calling it 'AppData', then creating the folder 'Temporary Internet Files' inside it. Once you've done that, click the 'Move folder…' button on the Browsing History Settings window.
Select the newly created Temporary Internet Files directory inside your SD Card folder. This will ensure that if you're ever downloading a huge file, you won't suddenly find yourself out of disk space until you clear your cache.
Optionally, go into your SD Card folder, right-click on the AppData folder, select Properties and mark the folder as 'Hidden'.